---
THE WORLD'S FINEST WELDING AND FIXTURE TABLES.
Siegmund Welding Tables are the finest quality tables on the market, with a high degree of dimensional precision for efficient, and extremely accurate fixturing. Hardened steel + plasma nitrided finish delivers a premium, resilient, wear-resistant, corrosion-resistant surface.
PROUDLY INTRODUCING THE PROFESSIONAL EXTREME 750 TABLES FOR SUPERIOR PERFORMANCE AND LONG LIFE.
Table side made of steel S355J2+N (St 52/3)
+ plasma nitration
+ BAR-Treatment
These are the hardest, most durable, and extraordinarily flat welding tables available in the world.
The hardened X7 steel, specially made for Siegmund, has a considerably higher basic hardness as the previously used fine-grained S355J2+N (St 52/3).
The top plate achieves a hardness of about 750 vickers after the plasma nitration and the BAR-Treatment. The higher basic hardness maintains the flatness much better than the previously used steel.
---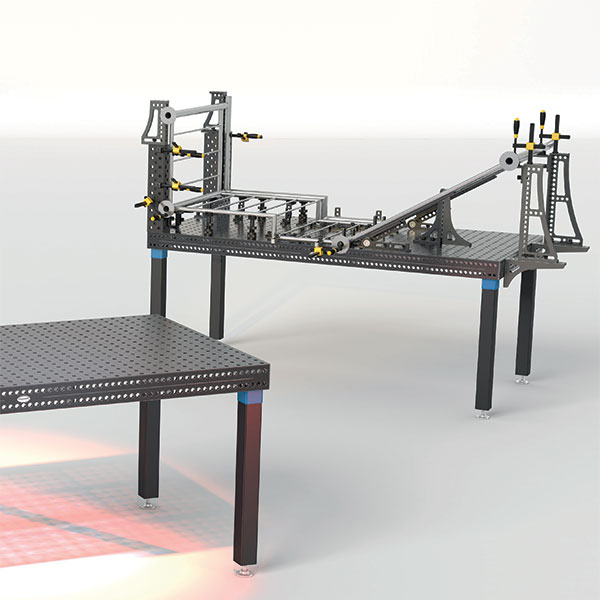 About Us
---
Strong Hand Tools® is committed to the goal of helping welders maximize their productivity through our motto of "Better Tools, Better Prices."
We focus on tools that combine unique, time saving features you won't find elsewhere with affordable prices for every budget.
Strong Hand Tools® is proud to represent the Siegmund line of welding tables through our extensive network of dealers in the United States and Canada to better serve the heavy duty fixturing requirements of our customers.